---
Cormier: People Can Love Lewis But He's Going To Lose At UFC 230
November 01, 2018
---
"This is a guy who believes in himself and believes in that one punch ability to the point that he doesn't quit whenever he is getting absolutely beat up and that makes him super dangerous."

Hear what @DC_MMA thinks about his opponent @TheBeast_UFC #UFC230 pic.twitter.com/RL2CPTdXMT

— UFC News (@UFCNews) November 1, 2018
There is no doubt that Daniel Cormier deserves to be in the G.O.A.T. conversation. And on Saturday he has the opportunity to defend the heavyweight title at the legendary Madison Square Garden in New York City.
If he can defeat the surging Derrick Lewis and defend a belt as an active multi-weight class champion, then he will have another impressive bullet to add to his resume.
We caught up with DC to ask him about the vibe he gets from New York City, Derrick Lewis and what fight does for his legacy.
UFC: This is the first time you've fought in NYC. What's the energy like here?
DC: It's been crazy man, this city moves me. I'm a southern boy you know so I've really got the energy of the city it feels good when I'm out, when I'm about hanging out with the boys you can see they're all excited. It's good, real good.
UFC: What do you think the walk out at MSG is going to be like?
DC: It's crazy because I've done it a lot in these types of environments you know I've fought in the biggest markets in the country, it just always is so intense. And I anticipate it being the same way on Saturday night.
UFC: What do you think about Derrick Lewis?
DC: I mean people love Derrick, he's a guy that has a really good following. He's a guy that people enjoy his jokes, they enjoy the talk, they enjoy the way he fights, they enjoy the post-fight interviews, they enjoy all these things. I think he's a phenomenal athlete, good opponent, but the problem is all the things that the people love about him they won't get to experience on Saturday because he's going to lose.
Check out yesterday's episode of #Unfiltered featuring @DC_MMA in-studio with @MattSerraUFC and @JimNorton :https://t.co/ssult8GX2P

— UFC News (@UFCNews) October 31, 2018
UFC: How do you prepare for a guy like Derrick Lewis?
DC: I just fight the same way. I can't reinvent the wheel I'm 39 years old, I've been doing this for ten years almost and I've done it in the same way. I'm not going to change anything. I'm going to pressure him, I'm going to make him work, take him down, I'm going to ground him, I'm going to strike with him, I'm just going to constantly try to pressure him and make him work.
UFC: What is the most underrated aspect of Derrick's game and what's the most underrated aspect of yours?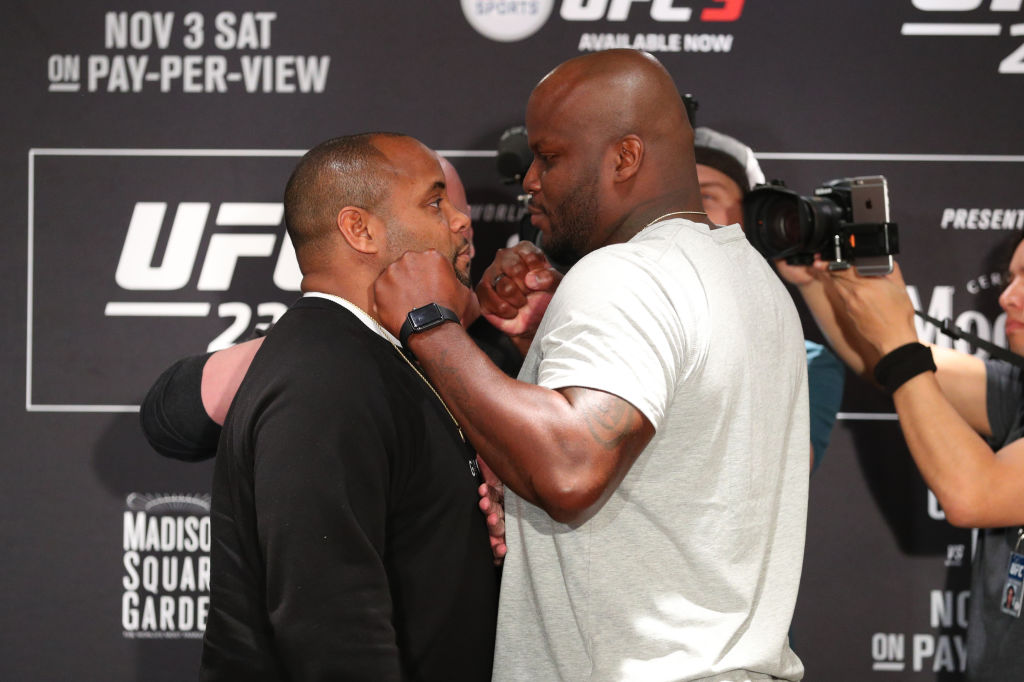 DC: I think the most underrated aspect of Derrick's game is his kicking and his self-belief. I think his self-belief is probably as strong as anyone I've ever fought. This is a guy who believes in himself and believes in that one punch ability to the point that he doesn't quit whenever he is getting absolutely beat up and that makes him super dangerous. When it comes to me, I think people underestimate my stand-up. I think they think that I'm just going to go out there and try to wrestle. But the reality is that I can stand and strike with anybody and I've proven that over the course of my career.
UFC: What does this fight do for your legacy? Is it already cemented or can you take it to another level?
DC: I don't necessarily know if I can take another level. I just know that after defending the heavyweight championship, I'll be a guy who has won and defend the heavyweight title and won and defended the light heavyweight title. That's never been done. I've carved out a pretty good place for myself in the UFC's history and I'm happy with it. I'm happy with all that I've accomplished but I just want to keep winning. I love to win because you know what happens when I lose (laughs) s*** is not good, it's not pretty.
Make sure you tune in to watch DC take on Lewis, Saturday November 3rd live on Pay Per View.
Gavin Porter is a digital producer for UFC.com, follow him at @PorterUFCNews on Twitter.